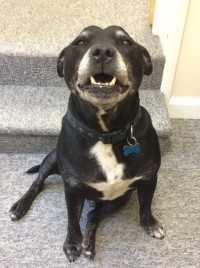 Hi all, Buddy here again!
It's been a while since we last caught up!
Do you know that we are off to a wag-tastic start here in the Roots HR office this year with our 9 x ½ day free training courses? These are running in Birmingham, Bristol, Leeds, London, Manchester and Nottingham throughout January – June 2016 for managers and leaders in social sector organisations. Course topics are Recruitment and Selection, Equality and Diversity and Essential HR.
Next courses coming up:
20th April – Essential HR – Nottingham
11th May – Essential HR – Leeds
22nd June – Essential HR – Bristol
To find out more and to book your space, click here.
And do you know that my team of office dogs at Roots HR has now reached 4? Sadly all come in on different days because apparently my tendency to play and bark with other dogs is viewed as "disruptive" to the working environment. I think the humans attach too much importance to this actually.
All the talk of training has made me realise that there is a need for some clarity on the duties of an office dog in organisations. If you are looking to recruit an office dog or already have an office dog, you may like to think about the working environment in accordance with some of my guidance below.
Firstly, and I find this hard to believe, but there are some humans out there that are allergic to dog fur, get anxious around us or just don't like dogs. If you have an office dog, all visitors must be dog-tested by phone or email in advance of arrival. In our office a human lets them know that I or a member of my team will be in that day unless they would prefer us not to be. Almost everyone say they want to meet us!
Moving on to our specific duties. If your office dog is going to adopt the role of Head of Security like me, all staff must ensure that bags are ready for inspection first thing! I pride myself in getting cracking as soon as I get through the door and like to know who has a tasty lunch or best of all, fruit, to share with me during the day. There is usually considerable human resistance to my endeavours in this area, often linked to hygiene but again I don't attach much importance to this.
Shredding can be a very important responsibility for an office dog and I take it very seriously! As long as any staples etc are removed, I can shred paper, cardboard and best of all, my personal favourite, bubble wrap! Katherine puts the documents marked Confidential through an electric shredder which I think is a shame but apparently we can't take any risks with them.
A good dog also provides a warm and waggy meet and greet service when the doorbell rings, making sure visitors feel welcome and happy to see such an adorable face. I find that offering my belly for a scratch is a really good way to break the ice. Sometimes dogs might want to sit in on a meeting if this is appropriate; I have done so in the past so that I can keep a watchful eye over the biscuits (back to Security here, an office dog's work is never done).
We ask for very little in return for all our hard work. Having a comfortable bed is definitely essential for an office dog so that when you're working and between our various duties, we have somewhere to nap through the day. Some chew toys are also handy for our rest and relaxation. Don't forget a water bowl and to schedule a walk between meetings! I hope my blog encourages you to recruit an office dog… and remember to reward your office canines with treats and toys every day!
Make sure you do check out our free training and request an application here and paws crossed you will secure a place!
Until next time,
Buddy