(But not for important working dogs with canine hay fever who are worried about their sickness record.)
So it's that time of year again; all the school kids get to break up for the summer and spend their days soaking up the sun and even playing football. It's great when the kids are playing football because when I walk home from work I get to join in – I'm well known for my 5-0 score. That's 5 footballs I ate last summer that the kids couldn't get back from me. I've heard mention of £50 so far in compensating angry parents. I don't know what that's all about, nothing to do with me for sure.
The other reason that I am so tightly restrained whenever there are footballs near is because I am suffering from a touch of doggy hay fever. My mum and dad give me some cold baths to make me feel better and this seems to help, thankfully. I don't sneeze very much and my eyes don't water or get painful but my fur gets very itchy and I can't stop scratching, I feel like a toddler with chicken pox (with the exception of the red spots and the onesie of course!). My mum thinks it's to do with the pollen from the beautiful green park right outside our house. She thought it would be a good idea to stay at home today because she said it's not very nice weather for dogs as it can get too hot.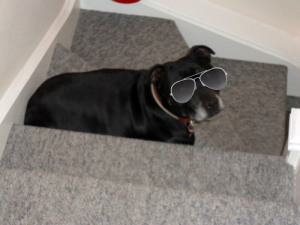 I now have to face the doggy dilemma. Do I try to ignore it, try to stay away from itchy pollen but have more sick days off work or do I just dive straight in and pop some meds so I can keep up my Receptionist and Security role at the office? This is a working dog's worst nightmare, I don't want to suffer any longer but giving up and taking some pills soothe my condition? What if gets out of hand? I've read about these celebrities who were stars before they could even lift a paw or have a wag of their tail. I don't want to be sucked into that dangerous path. But then if I keep taking sick days off of work, my absence will surely cause problems in the office and they might find another dog to replace me who can attend work on a regular basis (without scratching all day). But I have had to come to the decision to just enjoy lots of cool baths and fuss to make me feel better so I can keep up my role at Roots HR. That sounds perfect to me.
As it happens, I don't mind staying at home, my friend Ady comes and walks me at lunch time to make sure I get enough exercise to keep up my perfect physique – it is swimsuit season after all. Then my afternoon is free to unwind, relax and wait for mum and dad to get home.
I think that's enough out me for now, until next time pedigree pals!