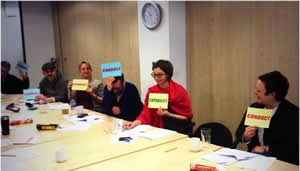 As part of Social Enterprise Week 2014 we offered free places on our popular and highly effective Essential HR training course designed to outline the basic HR elements all employers and managers need to know about engaging their workforce.
This training was funded through our trading surpluses and we were delighted to welcome 41 delegates across 3 training sessions in London, Birmingham and Manchester, delivered January – March '15.
In attending the session, delegates gained an understanding of employers' legal duties and the risks of failing to comply with them and received practical support for managing employees on a day-to-day basis. Delegates rated their confidence and knowledge with regard to employment law and managing performance prior to attending the course and after the course and on a scale of 1-5, moved on average from 2.8 to 3.9.
The training was extremely well received by delegates. There was appreciation for the quality and level of the training and the fact that it was delivered free of charge. Delegates rated the knowledge and ability of our trainer, Alison Smith as 4.4 on average out of 5 and the training content and materials as 4.6 on average out of 5.
Alison would like to thank all of the delegates who attended as they were highly participative in all the sessions and enabled great learning.